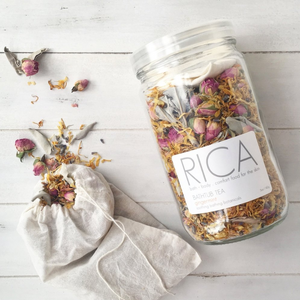 Benefits: In bathwater, this loose leaf botanical medley of 8 healing herbs will soothe + soften skin. Great to promote faster healing of skin.

Key Ingredients: Calendula, Pink Rose Buds, White Sage, Lavender, Chamomile, Spearmint, Jasmine, Rosemary, Essential Oils of Peppermint and Lavender.
Comfort Ritual: Fill tea bag 1/3 of the way with an herbal medley. Place bag in tub, steep + soak 15 - 30 mins using the filled tea bag as aromatherapy packed exfoliating washcloth. Post steep, discard used herbs, and hang bag to dry for your next tea time.